Private Spaces at The High Field 
High Field Huts
May the celebrations continue…Outdoors Join us on the terrace or patio and keep cosy under our heated stretch tents. Celebrating something special? Enquire now about our heated outdoor huts, an exclusive space for you and your party. We've made it easy to order on mobile but also provide full table service. All outdoor areas can accommodate up to six people from any number of households in line with current government guidelines.
Any outside bookable tables will be shown in your availability when you book online. We urge all guests to be respectful of the guidelines, and maintain social distancing. Click here to see our terms and conditions.
---
The Studio
Make the pub your new office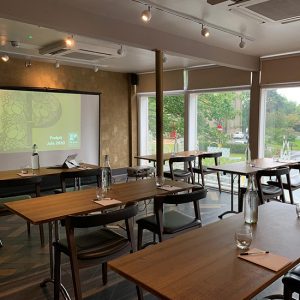 We all know this year has been like no other, and for many of us, it's meant the beginning of flexible working. No more long commutes into the office, dashes for the train, or soggy walks in the rain. But, the demise of office life has meant less social interaction, more zoom calls, and more time in your own four walls. Whether you miss the office buzz, want to give the kettle a break, or just have a change of office scenery – book a table in The Studio, any weekday, between 8:30am-3pm and we'll make sure you're fed and watered for a couple of hours in the day.
Serving brunch and lunch, 8:30am-4pm, a decent cup of coffee, and wine and beer for when the end of the day rolls round. Plus, guaranteed plug sockets, free wifi, and someone to chat to – we've got you covered. To book a Studio table online, quote "workspace" and let us know how long you'll be with us, we'll do the rest. And for those wanting to host business meetings, we can do that too. Just give us a call if you're hosting a business meeting with someone from another household, and we'll set you up, socially-distanced, in our private dining room or in the pub. Call and chat to Ben on 0121 270 7090.
We also offer corporate overnight weekday breaks at our boutique hotel The High Field Town House just next door. If you're planning a wedding, we can help with that too. Call our dedicated team on 0121 647 6466.
---

Weddings
Come and have a look round our fabulous rooms, or see the layout options below. You choose from a range of different private dining packages created for the occasion, from hot and cold buffets to delectable dinner party menus. All our food is fresh and seasonal and we're happy to design a menu that suits your taste and budget.
Ask to see our buffet menus, or if you're looking for a three course dinner then our set menu is for you, priced at £29 per person.
To start planning your event, contact us at highfieldevents@peachpubs.com or pop in and see us!
---
Private Dining Rooms
Our two smart panelled private dining rooms can be used separately or joined together for larger workplaces or business meetings. The possibilities are almost endless – speak to us about how you can use this space in a socially distanced way. 
There's no room hire if you are dining. Fill an enquiry form or call us on 0121 270 7090.