The Yard opens this weekend…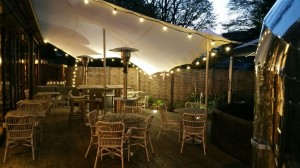 It's getting cold outside, but that doesn't  mean you have to stay inside to enjoy a drink or two with friends this winter, spend your days and nights at The Yard; a cool, new outside space that's brought a cosy winter terrace to Edgbaston.
Tucked inside a canvas roof, The Yard glows by day and sparkles by night. It's perfect for catching up with friends over a glass from our new wine list, or toasting a special occasion with a bottle of fizz.  Or warm up over a hot chocolate with your favourite shot thrown, enjoy a cup of mulled wine, or sip on a new bourbon, the ideal antidote to winter.
Pop over with friends at the weekend, or colleagues after work, and find everything you need for a great time. With plenty of space to sit, stand, hang out and chat, it's nice and toasty inside, with heaters to fend off those sub zero temperatures, and fleecy blankets to snuggle under.
And of course the really good news is that there's a fab new bar here too; the Peroni Retro Rocket has landed.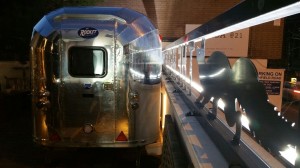 A stunning American style aluminium trailer filled with chilled beers and much more, to save all those long trips to the bar. Whilst you're drinking, you can order a tasty deli board piled high with a selection of fantastic charcuterie, cheese or veggie nibbles.
You can even book The Yard for your party or get-together during December and we'll lay on your own bar and server to ensure the night's a big success.  Just come and talk to us about what you have in mind.
Why not be among the first to check out The Yard by coming over to The High Field between 5 and 6.30pm on Thursday 24th November when we'll be having a drink on the terrace to celebrate the opening?  Just pop along for a glass of fizz or Peroni and some nibbles – no need to book.
The Yard will then be open every day from the 24th November until the end of December, while the Peroni Retro Rocket opens every Friday and Saturday night.
We hope to see you soon!